The Royal Touch
For many years, the Royal Flower Shoppe has been providing discriminating clients options for very personalized events.
We have evolved from being simple cut-flower suppliers to becoming expert event stylists providing the following services:
table centerpieces and tablescapes
thematic backdrops
ceiling fabric swags
lanterns and tablecloths
inputs on lighting and feasible floor layout.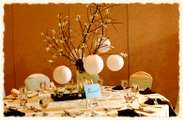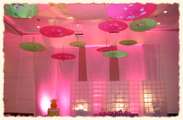 Themes
MODERN ROMANTIC - an all-white ensemble of white flowers, crystals and bead accents.
WHIMSICAL - an into-the-woods recreation complete with driftwoods teeming with flickering votive candle lights and suspended floral swings.
ENCHANTING - a couple's backdrop of rice lights over layers and layers of copper organza, georgette and chiffon fabrics.
ZEN - a study on textures through the use of moss, river stones, twigs, glass and rose cacti.
TROPICAL CELEBRATION - entrance arrangements of bananas formed into towers.
ASIAN - welcoming guests with bamboo arch suspended with scented jasmine and capiz shells.
MORROCAN - a vision of maharajah tent with floor carpets and cushions.